Rosenallis Tidy Towns Committee
Rosenallis Tidy Towns held a clean up night on Wednesday 6th April in the village which brought in over 12 bags of rubbish and we distributed car stickers, key rings, car tidy bins and stubbi's provided by Laois County Council to anyone who attended and Aidan Madden from Cáfe Rose kindly provided tea and refreshments when litter pick up was complete.
We would like to thank everyone who attended on the clean up night, the Slieve Bloom FAS workers, Peter Collins, Tony Hartnett, Bridget Hartnett, John Morris, Mary Morris for their assistance in cleaning the Rosenallis. We would especially like to thank Councillor David Goodwin and Councillor Seamus McDonald for their continuing support and Martina Bracken from Environment Section of Laois County Council for her assistance and advice.
We would ask the local community to keep the locality litter free and please report any black spots so that we can arrange removal. New members are always welcome especially with the competition coming up in June/July. For enquiries please contact 087-6197133.

1st photo - Cían Mahon, Jason Mahon and Dónagh Calally.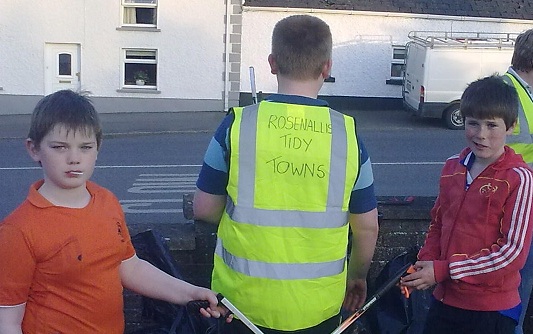 2nd photo - Dean Mahon, Councillor Seamus McDonald, Sheila Mahon,
Jason Mahon, Dónagh Calally, Cían Mahon, Lucy Conroy, Síobhan Murphy
and Councillor David Goodwin.