Walking in the Rosenallis Area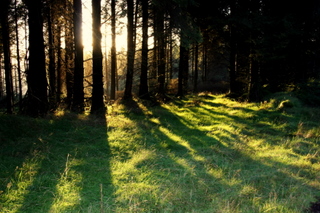 The location of Rosenallis makes it the ideal place to start exploring the Slieve Blooms. There are many varied walks that will suit the beginner and veteran walker alike from the lofty windswept moorlands to relaxing riverside forest walks.

Glenbarrow in Rosenallis marks the official starting and finishing point of the Slieve Bloom Way, an 80Km circuit of the mountain range and part of the National Waymarked Ways of Ireland. Recently upgraded (2007), The route takes the walker past deep glens, rocky outcrops, waterfalls and lofty summits which are said to have a brooding personality of their own. Glenbarrow itself boasts a beautiful walk along the banks of the River Barrow to the well known three tier waterfall known locally as the "Clamp Hole Falls".

If you like panoramic views of the surrounding countryside then the Ridge of Capard is not to be missed. At almost 500m above the surrounding flat countryside, the wild windswept ridge is home to a vast array of wild plant and animal life and it is possible to see well into the counties surrounding Laois. On a clear day the Wicklow Mountains are visible to the east. Also on the ridge is an ancient stone cairn known locally as 'The Stony Man" which was built during the time that quarrying was carried out in the area.

Close by the Ridge of Capard is the old ruined village of Cone. Once home to fifteen families and self sufficient with it's own mill on the River Barrow, the last family left the area in the 1960s. While the area has since been planted with trees, the remains of the houses and boundary walls are still intact.
To reach Glenbarrow, take the minor road near the red-brick catholic church uphill out of the village. Then take the next road to the right and finally the next road to the left. The route is well marked with white on brown signposts. The National Grid Reference is N 367 82 and the area is covered by sheet 54 of the Ordnance Survey Ireland Discovery Series maps.