Welcome to Rosenallis National School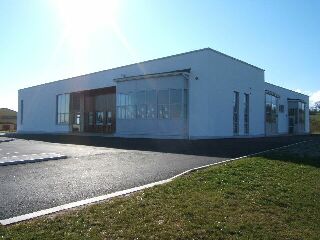 S.N. Rós Fhionnghlaise is a five teacher school with approximately 82 pupils nestled in the foothills of the Sliabh Bloom mountains. Our village of Rosenallis is situated between Clonaslee and Mountmellick in County Laois, in the midlands of Ireland. Rós Fhionnghlaise is the gaelic name for Rosenallis and it means the 'Wood of the Clear Stream'.

We moved into our new school (pictured top) in September 2005 on a site beside the local Community Centre. Our school is growing steadily and we built a new classroom which was opened in September 2009. The old school (pictured bottom) had been built in 1945 replacing the one which had served since the early 1900s. Six different principals have worked here since then. The present principal is Jackie Hyland. The other class teachers are Colette Haverty, Gemma Goulding and Adrian Reynolds. Ann-Marie Purcell and Madge Gorman provide learning & resource support respectively and ably supported by our SNA, Jane Conroy.

The school has a very supportive Parents Council who hold many events throughout the year to raise funds for the school.

The children participate in many local events. They are passionate about their hurling and gaelic football and in 2005, they contested both finals in their divisions, winning the hurling in a closely fought encounter. The children take part in the Cumann na Bunscoil competitions and this year we took part in some Atletics events also. The school has been involved in the Mountmellick Credit Union table quizzes and in other competitions in art, handwriting, poetry, etc. In the 'Building for the Future' history competition 2006, run in conjunction with the Irish Independent newspaper, the school won first prize in Co. Laois with a project entitled 'Our Local Heroes'. In 2007-2008, the school obtained a 'Primary Science Excellence Award' and everyone is working very hard to get a Green Flag for having an evironmentally aware school.

The school also participates in the annual St. Patrick's Day Parade in the village. They sing and play music in church ceremonies with the children's folk group and are encouraged to learn and appreciate their history and the local natural environment of the Sliabh Blooms.

The senior classes run many events and have raised monies on behalf of charities such Laois Hospice.

Looking ahead, the school is forging new relationships with schools abroad with a view to learning about other foreign languages, European cultures and way of life. It is envisaged that this will develop into a pen-pals/information exchange with an appreciation and respect of those from outside Ireland.
We also endeavour to integrate I.T into many lessons and projects.

Speaking Gaeilge both formally & informally, in school and at home, is actively encouraged mar is é aidhm Scoil Náisiúnta Rós fhionnghlaise ná timpeallacht thaithneamhach shabhailte dea eagraithe a chothú. Timpeallacht in ar féidir leis na páistí ina curam forbairt go huile is go hiomlan, go spioradalta, go fisiciúil, go cultúrtha agus go hintleachtúil. Is é ar gcuspóir an timpeallacht agus an fás seo a chothú trí mhéan na Gaeilge chomh maith. Bain trial as an nGaeilge agus labhair Gaeilge linn!

We aim in S.N Rós fhionnghlaise to create a warm, caring, understanding and pro-active working environment where every person feels needed, valued and appreciated and where each child is encouraged to fulfil his/her potential.